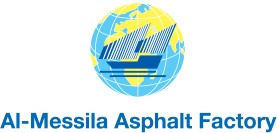 Al-Messilah Asphalt Factory is situated in "Kabad" on a land of around 10,000 sqm. operating since year 2009 with following specification:
German designed and made WIBAU WKC100 Brand having production capacity of 100Tons/hr.
The factory is fully equipped and production is fully controlled by "Computerized Control System".
Complete Fire-Fighting system over the entire factory in addition to a "Deluge" system for flammable liquid.
In-house power generator with a capacity of 520KVA
Ample storing capacity for raw materials.
Modern Laboratory for quality control.